Testimonials from previous students and graduation photos
'I had a wonderful mentoring experience. I am sure not many of the students are privileged to have so. I did not realise how effective a mentor could be until I had my first meeting with Gillian. Unlimited support, fruitful advice, insightful subject knowledge, prompt replies and the list continues. I felt she was just an email away from me. Selecting a mentor is critical to passing the OBU project and I am lucky that I got it right.'
Md Polash Ahmed, France – Successful first attempt awarded BSc Applied Accounting May 2019
Gillian demonstrated genuine personal interest and passion about our engagement. She contributed with valuable suggestions and motivated me with her enthusiasm to take the extra step. Her guidance and constructive feedback challenged me to dig deeper into my field of research. She made the overall experience a pleasant and unforgettable journey!
Elena Dourou, Malta, MBA dissertation [submitted June 2018]
---
" I passed the dissertation at last. Thanks are due to you for your kind, great guidance and encouragements. I would have given up long before! The dissertation is very challenging for me and I am proud of my completing my MBA under your great guidance and encouragements"
Larry Jia, China
---
Gillian was my supervisor [mentor] on a dissertation to an MBA in Oxford Brookes University.. From the first encounter, I found Gillian very open and approachable person. She was punctual and well prepared for meetings. She was fully committed and equally engaged in the project. Listening patiently was her special quality which motivated me in all our conversations. She created conducive environment for dialogue. She was notifying me her schedules in advance and was willing to adjust to my convenience. She simplified her ideas to the level of my understanding. Through the process, she equipped me with essential capability to carry out the research and made me confident and focused. She was always there for me with positive attitude and constructive feedbacks, directed me to relevant literatures and data sources to further support the research. She thought me how to analyze and interpret data and visually represent to reinforce my arguments. I learned to keep the coherence of findings, data and literature review in order to provide the right perspective to the research outcome.

It was an unforgettable experience that encouraged me to envision better future and aspire for higher career opportunities. She is highly responsible and caring. Gillian was the right person to supervise me and I was so grateful of what she. I have no words to express my gratitude. I truly believe she has a lot to offer to anyone doing research and aiming at professional growth and career advancement.

Anteneh Abate

FCCA, Association of Certified Chartered Accountants

MBA, Oxford Brookes University – MBA dissertation – Distinction [submitted 2018]
---
"Gillian thank you for your help! Without your support and inspiration I would never have passed that terrible work"
Oleh Bazaliiskyi, Ukraine, MBA dissertation [submitted 2018]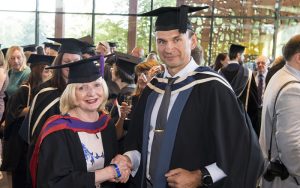 ---
"I previously failed my first attempt on topic 16 [using a different mentor]: I felt that my previous mentor was not familiar with the marking scheme and the support I received was very limited.  In particular Gillian is very familiar with the Oxford Brookes BSc Applied Accounting marking scheme and was able to provide valid feedback throughout in terms of research structure, research methods, accounting knowledge and writing skills etc. I felt that my progress ran smoothly and benefited from the structured support I received from Gillian, who was very approachable and thorough during our mentorship.  I am very grateful that I was recommended to approach Gillian for supporting my resubmission.
Sam G, BSc Applied Accounting student, UK
---
"Dear Gillian, It was an honour to be your student. I really enjoyed your Corporate governance class"
Ghadeer Abu Al-Shawareb, Jordan, MSc June 2018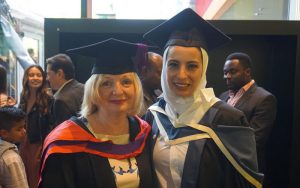 ---
"I achieved an A in the BSc (Hons) Applied Accounting research project and a first overall. Having Lorraine as a mentor was pivotal in keeping the project to the point and on task. She was attentive and showed an interest in the project matter. Her ability to ask the right questions and to challenge the project content and research methods was exactly what was needed from a mentor. Lorraine's knowledge of the marking criteria expected project style and report format was exemplary and definitely provides confidence when writing the report. Overall, I could not recommend Lorraine enough."
Period 40: Giles Wright, BSc Applied Accounting – A Grade Topic 8
---
"As a mentor of my research project, I decided to work with Lorraine McKechnie. She helped me a lot to produce quality and successful research report.

During the entire period of preparation of the OBU RAP, she repeatedly checked my report, highlighting the spots for the further development of my OBU RAP.

She is not only a professional mentor, but also an excellent interlocutor. She is very kind and always devotes more than enough time to discuss the project with her mentees. Each meeting with her is full of useful recommendations. In the end, my OBU RAP was awarded A Grade.

Taking this opportunity, I would like to express my gratitude to Lorraine McKechnie. Without her appropriate instructions, I would not have been able to produce such a successful research project. She has vast experience which is highly appreciated by all mentees. I wish her success in future OBU RAPs with other candidates."
Begzod Rakhmanov, BSc Applied Accounting – A Grade Topic 18
---
"Undertaking a piece of academic writing with tight time constraints seemed a daunting challenge. I shouldn't have worried! Lorraine was a fantastic guide, offering advice and insight. I could not have asked for a better mentor throughout the process."
Peter Price, BSc Applied Accounting Topic 18
---
"Working with Lorraine was a complete pleasure and vital in me passing the RAP. From the first introductory call we had a good rapport and clearly established a plan of attack for the project. I happened to be working to a tight deadline due to timings for my professional exams so having a mentor who was flexible with her timings and exact in the requirements needed was vital. What was especially useful, was where there were parts to improve on, and the explanation of where I was going wrong with parts of my writing style or analysis.

The overall process could've been a lot more stressful but with the help of Lorraine, I actually quite enjoyed the process and achieved my goal. Highly recommend!"
Saqeeb Howlader, BSc Applied Accounting Topic 6
---
"Dr. McKechnie had been extremely valuable in helping me pass my OBU RAP. I don't think the mentor-student relationship could have been any better! She was always on time, professional and dedicated as much time as needed in our meetings. I felt that she cared. She helped me look at my work from a marker's perspective. I would definitely recommend her as a mentor to any student seeking high quality guidance."
Rana Al-Munshi, BSc Applied Accounting Topic 8
---
"When I found Lorraine, I was working on my resubmission paper. I was anxious and confused. At our first meeting she explained my failed essay's feedback as a former marker's perspective. This meeting cleared my confusion. I understand the marker wanted to know how I thought not what I did. This was quite helpful when I struggled to put my material together under the time pressure.

She always responded so quickly. Sometimes, I wonder which time zone she was in.

Overall, I think her feedback was constructive and clear. She is a competent and responsible mentor. I wish I had her as my mentor for my first submission."
Jian Wei, BSc Applied Accounting Topic 8
---
"Lorraine helped me to find direction and to develop the RAP within the project that I had already work on in my first submission; she was also very clear about the addressing the comment given by my first submission as well as elements that she thought needed more work. No one enjoys receiving criticism, but Lorraine's suggestions were clear, and accurate, and to-the-point. She was never prescriptive, we worked and discussed together to find out what I wanted to do and needed to get my message across. Of course, none of this is a guarantee of success, and you have to be prepared to do the work. I'm extremely grateful to her and would recommend the experience highly."
Galvin Seah, BSc Applied Accounting Topic 18
---
"After failing my previous submission, I felt I needed to find myself a mentor that would actually be able to answer all my questions and queries, as well as support me on my journey to the BSc in Applied Accounting, in Lorraine I found just that.

After previous disappointments I inevitably began to question myself and my own ability, but crucially she came along and gave me the belief that I could achieve this degree.

Her ability to explain technical issues and support me with my queries were outstanding, in particular I had specific queries regarding referencing which previous mentors were unable to clarify or provide definitive answers to, but this was no longer an issue once I met Lorraine, as thanks to her vast experience in Academia, she knew exactly what she was talking about and was exceptionally good at sharing that knowledge.

If you want a first-class mentor that is extremely approachable and brilliant at what they do, then you need a mentor like Lorraine.

My only regret is not finding Lorraine in time for my first attempt, as I could have avoided resubmission had I worked with her in the first place!"
Patrick Roach, BSc Applied Accounting Topic 8